Rocanal R2
Permanent Vital
Rocanal™- Permanent Vital R2 is a final root canal filling material. Its unique action helps prevent contamination and protein decomposition particularly under anaerobic conditions.
Pulpectomy: filling must stop at the anatomical foramen or at the dentin junction. Going beyond the apex may cause painful postoperative reactions.
A correct filling reaches the anatomical foramen. Rocanal permanent vital R2 allows the formation of an osteo-cementum, which biologically seals the apex.
Packaging:
5 ml liquid
8 g powder
Rocanal is Swiss made
- a Calss III medical device
- under pharmaceutical control
- 40 clinical trials
- 60 milions of obturation
- and 30 years of success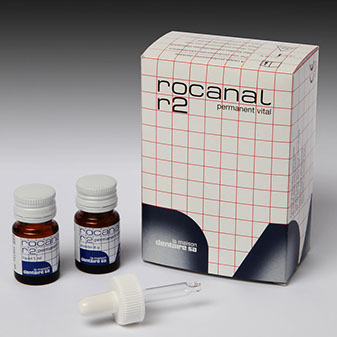 Prosthetics
Dental Hygiene
La Maison Dentaire SA - Alte Churerstrasse 36 - FL-9496 Balzers - LIECHTENSTEIN
www.maisondentaire.com - www.medirel.ch - Tel. +41 91 6045434 - Fax +41 91 6053026 - info@medirel.ch