Rocanal Irrigation
Hydro-alcoholic rinsing solution used in dental practice to clean after final root canal preparation.
Rocanal Irrigation cleans, lubricates and rinses in a unique step.
It is non-irritant and doesn't provoke swell nor pain.
Its packaging is secure and prevents any crosscontamination.
Simply use Rocanal Irrigation with a standard anaesthetic syringe and a needle.
Packaging:
50 Cartridges of 1.8 ml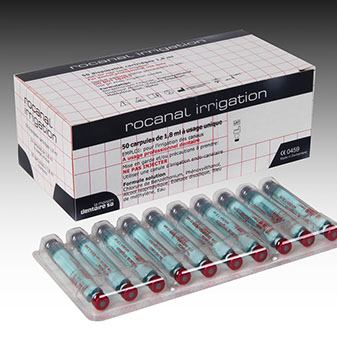 Prosthetics
Dental Hygiene
Rocanal is Swiss made
- a Calss III medical device
- under pharmaceutical control
- 40 clinical trials
- 60 milions of obturation
- and 30 years of success
La Maison Dentaire SA - Alte Churerstrasse 36 - FL-9496 Balzers - LIECHTENSTEIN
www.maisondentaire.com - www.medirel.ch - Tel. +41 91 6045434 - Fax +41 91 6053026 - info@medirel.ch