Medi Kord
with Epinephrine and astringent
Medi-Kord is an approved class III medical device.
It contains with Epinephrine and astringent to provide effective gingival retraction and hemostasis.
Medi-Kord is a braided cotton thread for the gingival retraction.
Packaging:
dispenser contains 183 cm of uninterrupted thread.
Medi-Kord is available in 4 sizes: 7, 8, 9, and 10.
Prosthetics
Dental Hygiene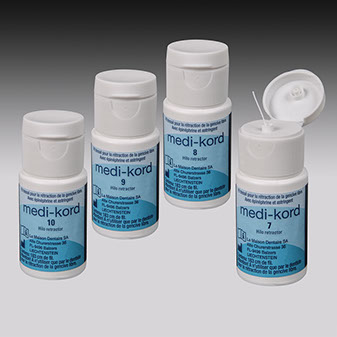 La Maison Dentaire SA - Alte Churerstrasse 36 - FL-9496 Balzers - LIECHTENSTEIN
www.maisondentaire.com - www.medirel.ch - Tel. +41 91 6045434 - Fax +41 91 6053026 - info@medirel.ch