Rocanal R3
Gangrene
Rocanal™- Permanent Gangrene R3 prevents failures in endodontic treatment caused by the presence of bacteria.
Rocanal Permanent Gangrene R3 is a final endodontic cement that prevents the growth of bacteria and secondary periapical complications. During the pre-setting period active ingredients have a diffusion of about 2 mm. If an excess of cement goes beyond the apex, it is well tolerated and is resorbed by the macrophages.
Beyond the apex Rocanal Permanent Gangrene R3 is well tolerated. Rocanal R3 Permanent Gangrene is slowly resorbed if placed beyond the apex.
Packaging:
5 ml liquid
8 g powder
Prosthetics
Dental Hygiene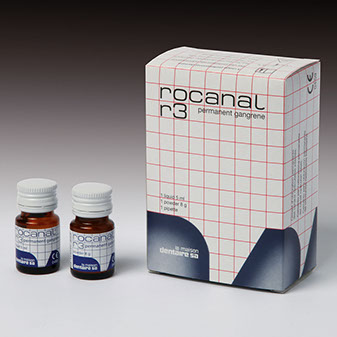 Rocanal is Swiss made
- a Calss III medical device
- under pharmaceutical control
- 40 clinical trials
- 60 milions of obturation
- and 30 years of success
La Maison Dentaire SA - Alte Churerstrasse 36 - FL-9496 Balzers - LIECHTENSTEIN
www.maisondentaire.com - www.medirel.ch - Tel. +41 91 6045434 - Fax +41 91 6053026 - info@medirel.ch