Rocanal R3
Gangrene
Rocanal™- Permanent Gangrene R3 is a permanent filling cement for infected root canals.
Rocanal™- Permanent Gangrene R3 prevents failures in endodontic treatment caused by the presence of bacteria.
Rocanal Permanent Gangrene R3 prevents the growth of bacteria and secondary periapical complications.
Features:
• Bactericidal and fungicidal effects on the infected root
canals thanks to the two active ingredients
OrthoPhenylPhenol (5%) and Nitrofurazone 0.5%;
• during the pre-setting phase these two ingredients
diffuse about 2mm and the pharmacodynamic effect
occurs;
• excellent sealing properties thanks to volume stability.
• In case of overfilling, it causes neither pain nor damage
because it is slowly reabsorbed only in the periapical
region by macrophages present in the living tissue
which gradually eliminate this excess.
• Contains no toxic ingredients;
• biocompatible.
Packaging:
5 ml liquid
8 g powder
Prosthetics
Dental Hygiene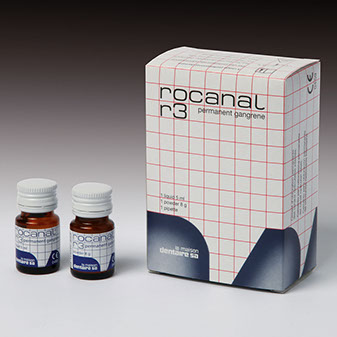 La Maison Dentaire SA - Alte Churerstrasse 36 - FL-9496 Balzers - LIECHTENSTEIN
www.maisondentaire.com - www.medirel.ch - Tel. +41 91 6045434 - Fax +41 91 6053026 - info@medirel.ch