Asba Primer
Primer A:
Light curable, mix with Primer B for dual cure capability for use with all indirect procedures.
Primer B:
Self-Cure catalyst for Primer A.
Indications:
Cementation of post dentin/enamel bonding.
Bonded porcelain restorations and porcelain repairs.
Repair of porcelain fractured from metal framework.
Bonding to precious and non-precious metals and porcelain fusing alloys. Bonding composite to existing amalgam.
Bonding new amalgam to tooth structure. Bonding new amalgam to existing amalgam.
Packaging:
Primer A: 1 x 6 ml
Primer B: 1 x 6 ml
Prosthetics
Dental Hygiene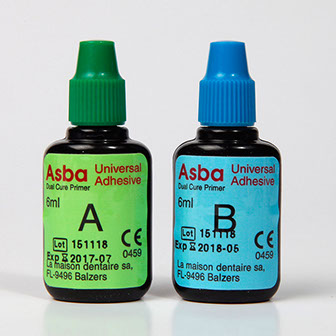 La Maison Dentaire SA - Alte Churerstrasse 36 - FL-9496 Balzers - LIECHTENSTEIN
www.maisondentaire.com - www.medirel.ch - Tel. +41 91 6045434 - Fax +41 91 6053026 - info@medirel.ch